Matt Shupe founded Praetorian Public Relations in 2013.
The vision for Praetorian Public Relations was to assemble an elite team of professionals, similar to the Praetorian Guard of Ancient Rome.
We have created a full-service public relations, advertising, crisis, and political agency that is a one-stop-shop for individuals, businesses, and non-profits that wanted to win — not just the slow, lazy, traditional, incremental growth offered by other agencies.
Since founding Praetorian Public Relations 10 years ago, Shupe has been named 40 under 40 in the United States by the American Association of Political Consultants, one of the top five communications professionals in California by AroundTheCapitol.com, and contributed to Praetorian Public Relations winning AAPC's Pollie Award for the best use of Facebook in the country.
Shupe has proven himself as a highly-sought-after expert and leader in strategic communications, crisis management, advertising, social media, and branding.
Shupe is occasionally a guest on Fox Business and is frequently quoted in major publications such as The Los Angeles Times, The San Francisco Chronicle, Politico, The New York Times, and FoxNews.com.
Shupe earned Bachelor Degrees from California State University, Fresno in Mass Communication and Journalism with emphasis in Public Relations, and Political Science.
Shupe's hobbies include earning his clients millions of dollars worth of press coverage, creative advertising campaigns, managing crises, exposing injustices, and electing clients to office. Shupe has no children, a dog named Spartacus, no tattoos, no piercings, is very attached to his cell phone, and maintaining his Ambassador status with Marriott.

Trevor Lewis is a dynamic professional who has made significant contributions to Praetorian Public Relations since joining the team in 2019.
Prior to joining the company, Lewis had established himself as an entrepreneur and digital marketing expert, founding a number of successful companies in California's Central Valley. Additionally, he served as a District Director for a state legislator and was instrumental in multiple successful political campaigns.
Drawing upon his extensive experience in business and marketing, Lewis brings a wealth of knowledge to the Praetorian team. His expertise in entrepreneurship, digital marketing, and business strategy have helped numerous clients achieve remarkable growth in sales, with some even exceeding 300%.
With an eye for innovation and a commitment to staying abreast of the latest trends and technologies, Lewis has demonstrated a keen ability to deliver results for his clients.
Lewis earned his Bachelor's Degree from Fresno Pacific University. Since then, he has continued to build upon his knowledge and skills, honing his craft through years of hands-on experience in the field.
In addition to his work at Praetorian Public Relations, Lewis is a mentor, sharing his expertise with aspiring entrepreneurs and marketers. His passion for helping others succeed is evident in everything he does.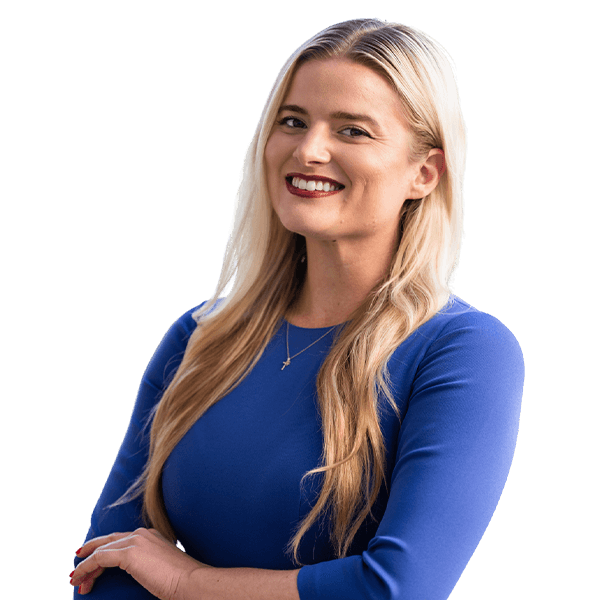 Public Relations Director
Daytona Everett joined Praetorian Public Relations in 2022 after working as a National News Anchor at Fox Corporation. She anchored some of the biggest news stories in recent history including the 2020 election, Russia's invasion of Ukraine, and the global coronavirus pandemic.
Daytona earned a Bachelor's Degree in Broadcast Journalism from the University of Missouri in 2018. As a college student, she began her career as an investigative reporter and anchor at KOMU-TV pressing for answers from Missouri politicians such as Josh Hawley and Eric Greitens.
After college, Daytona worked at KMIR-TV in Palm Springs as an evening anchor and reporter covering California politics, entertainment, and breaking news. Daytona's work was featured nationally on numerous occasions while covering wildfires in the Coachella Valley.
Daytona brings to Praetorian Public Relations in-depth knowledge of digital media, TV news, social media, SEO, public speaking, and consulting.

Raul is a dynamic and creative Social Media Director who lives and breathes the digital landscape. With an unquenchable passion for all things social media, he combines strategic thinking with an artistic flair to craft compelling online narratives. With a proven track record of driving engagement and growth, Raul is your go-to expert for navigating the ever-evolving world of social media.
Drawing from 10 years of experience, Raul possesses a deep understanding of the nuances that make each social media platform unique. From crafting trendsetting campaigns to curating visually stunning feeds, his expertise spans across industries, ensuring that every strategy is tailor-made to resonate with specific audiences. Having successfully collaborated with both startups and established brands, he brings a versatile perspective that consistently delivers results.
In Raul's world, strategy and creativity go hand in hand. Unconventional thinking is the driving force behind every campaign, pushing boundaries and setting trends. He believes that every post is an opportunity to tell a story, and through thoughtful content calendars and innovative ideas, he transforms mundane messages into captivating narratives that spark conversations and leave a lasting impact.
Beyond being a strategist, Raul is a collaborative partner who values open communication and shared goals. Whether working with a tight-knit team or interfacing with clients, he is known for his proactive communication style and ability to transform visions into actionable plans. Ready to navigate the ever-changing currents of the social media landscape, Raul is your dedicated guide to achieving digital success.

Public Relations Strategist
Camryn Kinsey joined Praetorian Public Relations in 2023 after graduating with a masters degree in National Security at Liberty University. Prior, she served as External Relations Director in the White House Presidential Personnel Office.
After her time in the White House, Camryn worked as a White House Correspondent for a national news organization. She extensively reported on the 2021 U.S. troop withdrawal from Afghanistan, the Israeli-Palestine conflict, and the U.S.-Mexico border. She frequently went to Capitol Hill and interviewed United States representatives on policy and strategy.
Camryn is from Kentucky, and she was a D1 cheerleader at the University of Louisville where she completed her undergraduate degree in Political Science with track in Law and Public Policy.
She has been published in the DailyMail, New York Post, People Magazine, Politico, Fox News, and Yahoo News.
Kinsey is proficient in strategic communications, qualitative research, press, and governmental relations. Camryn enjoys fitness, golfing and Bible Study.

Digital Marketing Strategist
Ian Eckstein is a seasoned professional in the field of SEO and digital media production, with over a decade of experience in the industry. He has been involved with Praetorian Public Relations since the company's inception in 2013, and has been instrumental in driving the company's success through his expertise in online marketing strategies.
Ian's keen eye for design and passion for innovation have been pivotal in the development of dozens of websites from the ground up. Many of the websites currently managed by Ian generate millions of organic (non-ad) hits per month and tens of thousands of leads. This impressive record of success is a testament to his deep understanding of the digital landscape and his ability to leverage cutting-edge technology to drive measurable results.
In one recent campaign for an established company, Ian's skills led to an astounding 800% increase in inbound leads after just six months. This impressive feat highlights Ian's ability to develop targeted, effective SEO campaigns that deliver real-world results.
Beyond his work at Praetorian Public Relations, Ian is a recognized industry leader and serves as a mentor to up-and-coming SEO professionals. He holds a Master's Degree in Marketing, which has provided him with a solid foundation in the principles of effective digital marketing. Ian's dedication to his craft, coupled with his in-depth knowledge of the latest SEO techniques and best practices, make him an indispensable asset to the Praetorian team.

Jack Uribe joined Praetorian Public Relations in 2022 after graduating cum laude from the University of San Diego's Knauss School of Business.
Uribe comes to Praetorian with a background in student political leadership, having served on the boards of school and state level organizations during his time at University. In these capacities, he played an integral role in building involvement and mobilizing his peers on a local and regional level. During this time, he also established relationships with members of the media to share his organizations' stories to a national audience and expand the scope of their reach and influence.
He brings to the team his skills in digital communications, data management, and volunteer mobilization, complemented by his knowledge of the business world gleaned during his education.

Aaron Albright is a seasoned video editor and creative storyteller with an impressive 17 years of professional experience. With an innate passion for visual storytelling, Aaron has honed his skills and expertise in crafting compelling narratives that captivate audiences.
A student of Full Sail University, Aaron has also had the opportunity to study filmmaking and cinematography from a number of industry professionals including Ollie Kenchington, Alex Bruno, Adam Epstein, and Vincent Laforet.
Throughout his career, Aaron has demonstrated a remarkable ability to bring ideas to life through his meticulous editing techniques and keen eye for detail. He possesses an exceptional understanding of various editing software and technologies, allowing him to transform raw footage into seamless and visually stunning productions.
Aaron's creative storytelling prowess is a result of his innate ability to weave together emotions, visuals, and sound to create impactful and engaging narratives. His deep understanding of storytelling techniques enables him to connect with viewers on a profound level, evoking genuine emotions and leaving a lasting impression.
Over the course of his career, Aaron has worked on a diverse range of projects, including commercials, documentaries, short films, music videos, and corporate videos. His versatility and adaptability have allowed him to excel in various genres and formats, consistently delivering high-quality work that exceeds client expectations.
In addition to his technical and creative skills, Aaron is known for his strong work ethic, professionalism, and collaborative spirit. He understands the importance of effective communication and believes in working closely with clients to bring their visions to fruition. His ability to listen attentively and provide valuable insights has earned him a reputation as a trusted partner in the creative process.
Driven by a passion for innovation and staying abreast of industry trends, Aaron continuously seeks opportunities for professional growth and learning. He stays updated on the latest editing techniques, software advancements, and storytelling strategies, ensuring that his work remains fresh, relevant, and cutting-edge.
With an exceptional track record and a wealth of experience, Aaron Albright is a true master of his craft, dedicated to delivering captivating visual experiences and compelling narratives that leave a lasting impact on audiences.

Spartacus joined Praetorian Public Relations against his will in July 2022.
Spartacus brings his expertise in chewing, biting, barking, and general mayhem to the Praetorian Public Relations team.
Spartacus is currently enrolled in training.

Creates 4K/60fps video and 48MP photos. The advanced camera 1/1.3-inch sensor system supports dual native ISO, direct output of HDR footage, and f/1.7 aperture for high-quality imagery, night and day.
34 minute fly time.