Matt Shupe founded Praetorian Public Relations in 2013.
The vision for Praetorian Public Relations was to assemble an elite team of professionals, similar to the Praetorian Guard of Ancient Rome.
We have created a full-service public relations, advertising, crisis, and political agency that is a one-stop-shop for individuals, businesses, and non-profits that wanted to win — not just the slow, lazy, traditional, incremental growth offered by other agencies.
Since founding Praetorian Public Relations 10 years ago, Shupe has been named 40 under 40 in the United States by the American Association of Political Consultants, one of the top five communications professionals in California by AroundTheCapitol.com, and contributed to Praetorian Public Relations winning AAPC's Pollie Award for the best use of Facebook in the country.
Shupe has proven himself as a highly-sought-after expert and leader in strategic communications, crisis management, advertising, social media, and branding.
Shupe is occasionally a guest on Fox Business and is frequently quoted in major publications such as The Los Angeles Times, The San Francisco Chronicle, Politico, The New York Times, and FoxNews.com.
Shupe earned Bachelor Degrees from California State University, Fresno in Mass Communication and Journalism with emphasis in Public Relations, and Political Science.
Shupe's hobbies include earning his clients millions of dollars worth of press coverage, creative advertising campaigns, managing crises, exposing injustices, and electing clients to office. Shupe has no children, a dog named Spartacus, no tattoos, no piercings, is very attached to his cell phone, and maintaining his Ambassador status with Marriott.

Trevor Lewis is a dynamic professional who has made significant contributions to Praetorian Public Relations since joining the team in 2019.
Prior to joining the company, Lewis had established himself as an entrepreneur and digital marketing expert, founding a number of successful companies in California's Central Valley. Additionally, he served as a District Director for a state legislator and was instrumental in multiple successful political campaigns.
Drawing upon his extensive experience in business and marketing, Lewis brings a wealth of knowledge to the Praetorian team. His expertise in entrepreneurship, digital marketing, and business strategy have helped numerous clients achieve remarkable growth in sales, with some even exceeding 300%.
With an eye for innovation and a commitment to staying abreast of the latest trends and technologies, Lewis has demonstrated a keen ability to deliver results for his clients.
Lewis earned his Bachelor's Degree from Fresno Pacific University. Since then, he has continued to build upon his knowledge and skills, honing his craft through years of hands-on experience in the field.
In addition to his work at Praetorian Public Relations, Lewis is a mentor, sharing his expertise with aspiring entrepreneurs and marketers. His passion for helping others succeed is evident in everything he does.

Ian Eckstein is a seasoned professional in the field of SEO and digital media production, with over a decade of experience in the industry. He has been involved with Praetorian Public Relations since the company's inception in 2013, and has been instrumental in driving the company's success through his expertise in online marketing strategies.
Ian's keen eye for design and passion for innovation have been pivotal in the development of dozens of websites from the ground up. Many of the websites currently managed by Ian generate millions of organic (non-ad) hits per month and tens of thousands of leads. This impressive record of success is a testament to his deep understanding of the digital landscape and his ability to leverage cutting-edge technology to drive measurable results.
In one recent campaign for an established company, Ian's skills led to an astounding 800% increase in inbound leads after just six months. This impressive feat highlights Ian's ability to develop targeted, effective SEO campaigns that deliver real-world results.
Beyond his work at Praetorian Public Relations, Ian is a recognized industry leader and serves as a mentor to up-and-coming SEO professionals. He holds a Master's Degree in Marketing, which has provided him with a solid foundation in the principles of effective digital marketing. Ian's dedication to his craft, coupled with his in-depth knowledge of the latest SEO techniques and best practices, make him an indispensable asset to the Praetorian team.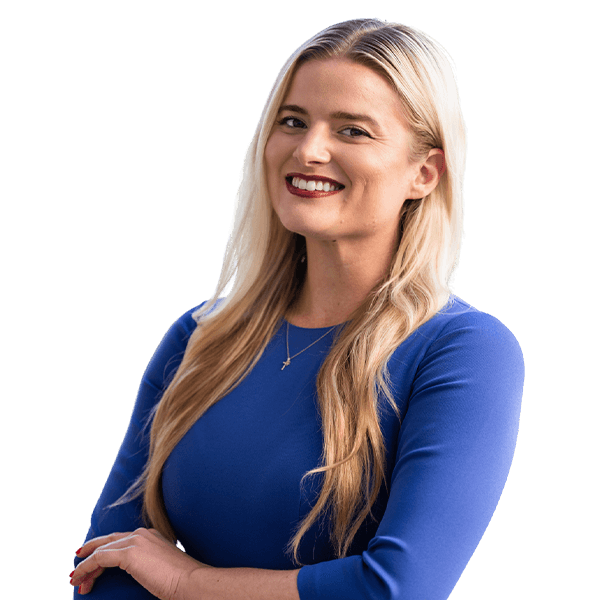 Public Relations Strategist
Daytona Everett joined Praetorian Public Relations in 2022 after working as a National News Anchor at Fox Corporation. She anchored some of the biggest news stories in recent history including the 2020 election, Russia's invasion of Ukraine, and the global coronavirus pandemic.
Daytona earned a Bachelor's Degree in Broadcast Journalism from the University of Missouri in 2018. As a college student, she began her career as an investigative reporter and anchor at KOMU-TV pressing for answers from Missouri politicians such as Josh Hawley and Eric Greitens.
After college, Daytona worked at KMIR-TV in Palm Springs as an evening anchor and reporter covering California politics, entertainment, and breaking news. Daytona's work was featured nationally on numerous occasions while covering wildfires in the Coachella Valley.
Daytona brings to Praetorian Public Relations in-depth knowledge of digital media, TV news, social media, SEO, public speaking, and consulting.

Jack Uribe joined Praetorian Public Relations in 2022 after graduating cum laude from the University of San Diego's Knauss School of Business.
Uribe comes to Praetorian with a background in student political leadership, having served on the boards of school and state level organizations during his time at University. In these capacities, he played an integral role in building involvement and mobilizing his peers on a local and regional level. During this time, he also established relationships with members of the media to share his organizations' stories to a national audience and expand the scope of their reach and influence.
He brings to the team his skills in digital communications, data management, and volunteer mobilization, complemented by his knowledge of the business world gleaned during his education.

Spartacus joined Praetorian Public Relations against his will in July 2022.
Spartacus brings his expertise in chewing, biting, barking, and general mayhem to the Praetorian Public Relations team.
Spartacus is currently enrolled in training.

Creates 4K/60fps video and 48MP photos. The advanced camera 1/1.3-inch sensor system supports dual native ISO, direct output of HDR footage, and f/1.7 aperture for high-quality imagery, night and day.
34 minute fly time.